Description
Course Description
During this four session Certified Scrum@Scale® Practitioner online training course, which is equivalent to the standard two-day course, you will gain knowledge and skills to transform your organisation into an Agile enterprise! You will learn about the Scrum@Scale framework and how to apply fundamental Scrum product development skills to scale Scrum across multiple teams!
The interesting course is a combination of lectures, interactive exercises, and real-world case studies. Your remote instructor is a Scrum@Scale expert who has hands-on experience of delivering using Agile methodologies and leading Agile transformations in large scale organisations!
The course is suitable for trainees across the globe… each session starts at 1:30pm GMT and finishes at 6:00pm GMT. This makes the course perfect for people in South and North America (East Coast), Canada, UK, Europe, Africa and India to name just a few example locations!
---
Benefits of Scrum@Scale Certification
As a Certified Scrum@Scale Practitioner you will be prepared to:
Facilitate cross team collaboration and release planning with tens, hundreds or thousands of people;
Create and prioritise a transformation Backlog to overcome impediments to scaling;
Measure and improve key Scrum metrics at an Enterprise level;
Deliver twice or more as much work without adding new teams.
The Scrum@Scale® course teaches the responsibilities of the Scrum Master, Product Owner, individual Scrum teams, and enterprise leadership in a variety of large-scale contexts.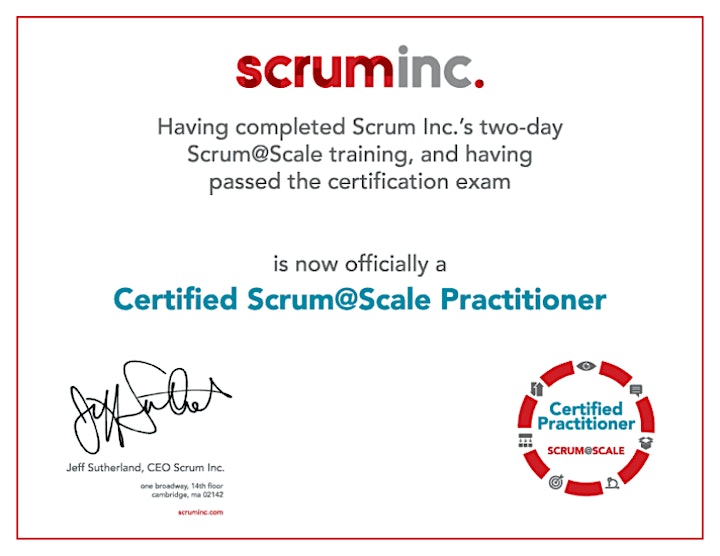 ---
What you will receive:
Four sessions of high-quality interactive instruction from one of our S@S experts who has been trained and certified by the co-creator of Scrum and creator of Scrum@Scale, Dr. Jeff Sutherland;
An online workbook and course materials;
Certified Scrum@Scale Practitioner certificate signed by the creator of Scrum (upon completion of the course and the official Scrum@Scale exam);
You can get up to 16 Category B Scrum Education Units® (SEUs) and Project Management Professionals® (PMP) can claim 16 PMI PDUs
---
Who should attend the Scrum@Scale Course?
The course is suitable for everyone who is about to start Scaling Scrum or has already gathered some experience and wants to deepen their understanding of large-scale Scrum. Including:
Organisation Leaders;
Product Managers;
Product Owners;
Scrum Masters;
Project Managers;
Agile Coaches;
Anyone interested in, working on or with, a large scale Scrum implementation.
---
Your Remote Trainer
Paul Beckett is an Agile consultant with significant hands-on experience of Scrum and other Agile disciplines. He was extensively trained by Jeff Sutherland (the co-creator of Scrum and creator of Scrum@Scale) and other leading Scrum Inc. consultants in the details of the Scrum@Scale operating model and framework. He has also been trained by leading Scrum trainers/authors including Geoff Watts and Mike Cohn.
Paul is also the author/visualiser of The Sketchy Guide to Scrum@Scale. Click here to view The Sketchy Guide to Scrum@Scale.
You can find out more about Paul at his LinkedIn profile: Click here for LinkedIn profile.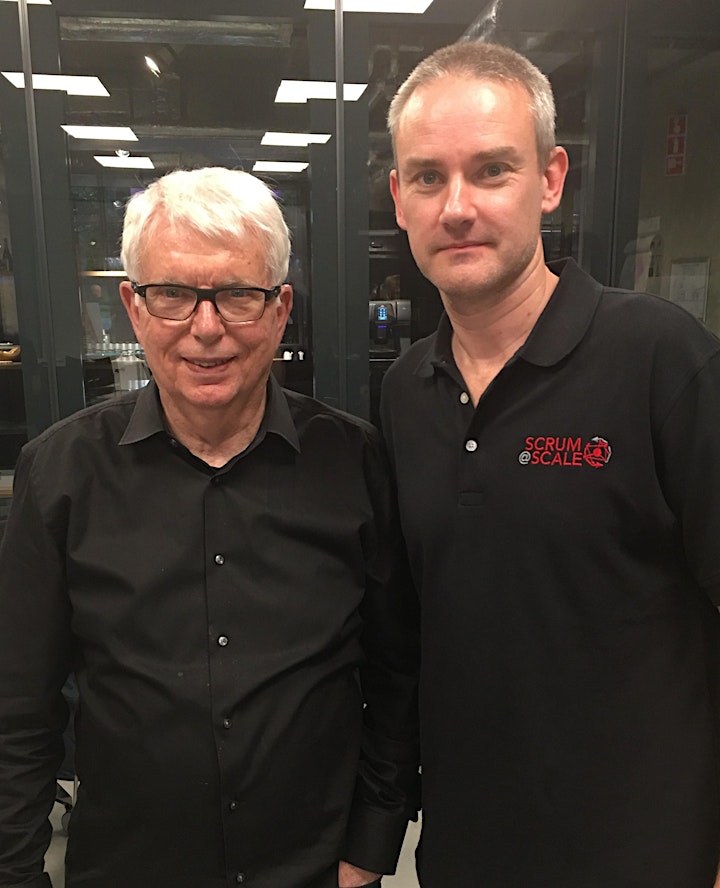 Paul Beckett with Jeff Sutherland (the co-creator of Scrum and creator of Scrum@Scale).